HookRock Blues & Roots Festival 2019 
I like the tradition so many of us musicians have adopted, of the after Festival/ tour gratitudes. Brace yourself, this is a long one! It's always such a whirlwind experience with very little time to focus. After the gig, I'm swept to clear the equipment, sell CDs and eat. It's very easy to miss connecting with friends and fans who've travelled a long way to see us, volunteers who've worked non-stop to support the local Blues community and especially your band mates who've just poured their heart, soul and skill into your music. A day or two after, the media seeps on the socials, our bodies rejuvenate and we have a moment to breathe in the experience and connections made.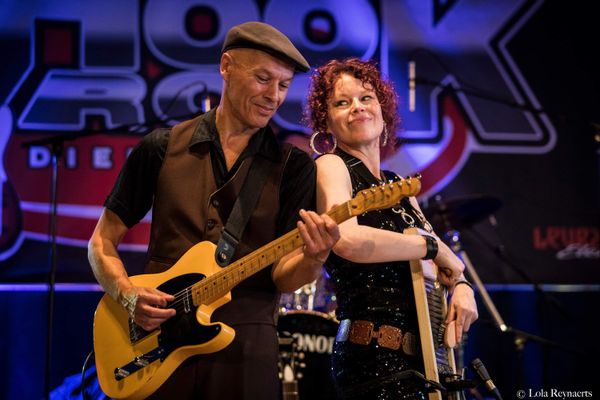 This weekend we played the HookRock Blues & Roots Festival in Diepenbeek (Deep Creek),Belgium. It was my first time playing as a group in Belgium and I enjoyed the friendly, cool, community vibe. We stayed at the Hotel de Ploeg, and were treated very well by the attentive and friendly owners who speak at least 3 languages fluently. Special thanks to Freddie Van Der Velpen and his partner in pen Marc Bouillon, for, well, being a SUPER FANS!!! After seeing us play, at BayCar Blues Festival, Freddie contacted Ivan Jacobs to bring us to HookRock. Clearly, when Freddie likes a group it gets booked and word travels fast. Paul Lehasse another great supporter of ours! We love you guys! My Lady Lola!!! Always great to see your shining face and fire red hair behind your camera! Meet ya next year in Chicago at Stan's! Dear Leen, thanks for coming all the way from Holland to see us for the first time! We can't thank you enough for promoting our CD, Soul Burnin'. Marc Lormans, so glad Colin John sent you to meet us! Any friend of Colin & Deb is an immediate friend of ours! Hope to see you play next time! Patrick VanSpeybrock, "Hello" my friend! The volunteers were running like crazy backstage clearly loving every moment through the chaos. Nice to see organizers of other festivals there to support! The public!!!! Wow!!! Great energy and dancing!!! Ladies, I felt the sisterly love! Thanks for all you do to support live blue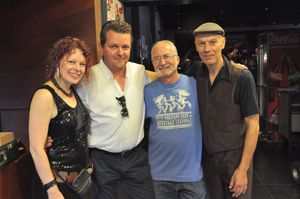 s!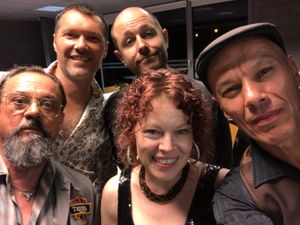 Next, our Paris Combo, Simon "Shuffle" Boyer, Fabien Saussaye and Jean-Marc JoeMac Despeignes. You guys are such handsome pros! We threw 2 new songs we've never played together before at them and it was a success! I even played rhythm guitar, on these tracks. ? Obviously, we've great confidence in them and they always look classy cool! Plus they put up with my strange movements, deciphering between dance moves and music signs. I'll get it under control soon, I promise! ❤️
The other bands … wow great lineup! We didn't stay in the same hotel and backstage was like ships crashing in the night … so, "hello, happy to share this festival with you!" So happy to meet Malford Milligan!!! It's a Milligan thing. ? Thanks for the shout out! "Jennifer Milligan's a Bad Ass!" ?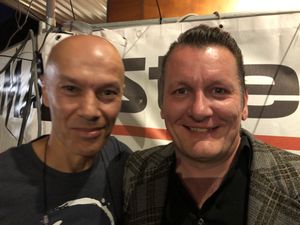 Ronnie Boysen, great to see you again, friend, and meet the KokoMo Kings. You guys are top notch! Zac Harmon was amazing with his group! Great to see ya again. One of these days we'll see ya at Natalie's!!! Cory, great to meet you. Let us know how you like the Haggis! Also, great to see Sugar Ray Norcia, Neil, & Mudcat again!!!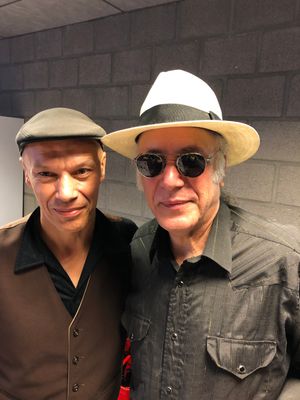 Always friendly class! And wow … the swinging blues groove. ? yum! Thanks for pulling out the "Frankie" moments. If you've got a crooners voice, let it crow! We got to meet Duke Robillard & Little Charlie too. It's always a special treat to see top blues musicians live. It's inspiring and reminds me of what it must've been like to see T-Bone Walker or Charlie Christian play live. Great guitarists need to be heard live. This festival was full of them!
Finally, a shout out to my own Rooster Fouquet.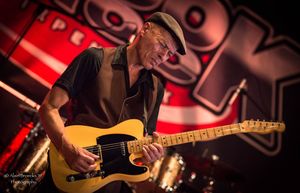 Wow, baby you blew me away this weekend! He went so deep in his solo on Occupy My Mind, I thought he might pass out . (It actually happened to him when he was starting out as a soloist). This only happens when the Combo is tight and the public is with him. The better he plays, you know the more grateful he is for your giving him the support to fly.
 As for me, I found a deeper joy in the music. I ❤️ backing up Pascal on rhythm guitar. It feels natural. The Combo had my back and the public was there with open hearts. It felt good! Whatever you feed me, I'll amplify back to you.
Finally, photographers, videographers & reviewers, you all are fantastic! Thanks for getting us out in the world. We couldn't do it without you. ?
Here are some of my favorite action shots: