"back of the Bus" with French Combo ...
2019 International Blues Challenge Finalists are heading back in 2022!
"We like to finish every concert by honoring the legends who inspire us with this medley of Muddy Waters' "Trouble No More" & Magic Sam's "Lookin' Good". We've played it as a duo in the finals at the International Blues Challenge, at Buddy Guy's Legends and as a full band to thousands at festivals. Every time seeing the thrill in fans faces lights our souls on fire." Lil' Red
LATEST NEWS:  September is the time, Chicago the place where Lil' Red Records will produce the second Lil' Red & The Rooster album consisting of ten original songs and an adaptation of "Nobody's Fault But Mine". They've put together a Grammy Winning dream team to get your booty swinging, Engineer Blaise Barton of JoyRide Studios, Kenny "Beedy Eyes" Smith on drums and Felton Crews on bass. If that's not enough to get you tapping in anticipation, we also have Parisian renowned Jean-Marc Labbe on baritone sax and Billy Branch singing and playing harmonica on "Keep On Loving You". Well, my booty's shaking, my soul's burnin', my heart's warmin' follow our socials for updates on it's release!!!
Ticklish Blessings!
Lil' Red & The Rooster
"

"The best of the evening !!" "
— Rootsville, BayCar Blues Festival 2018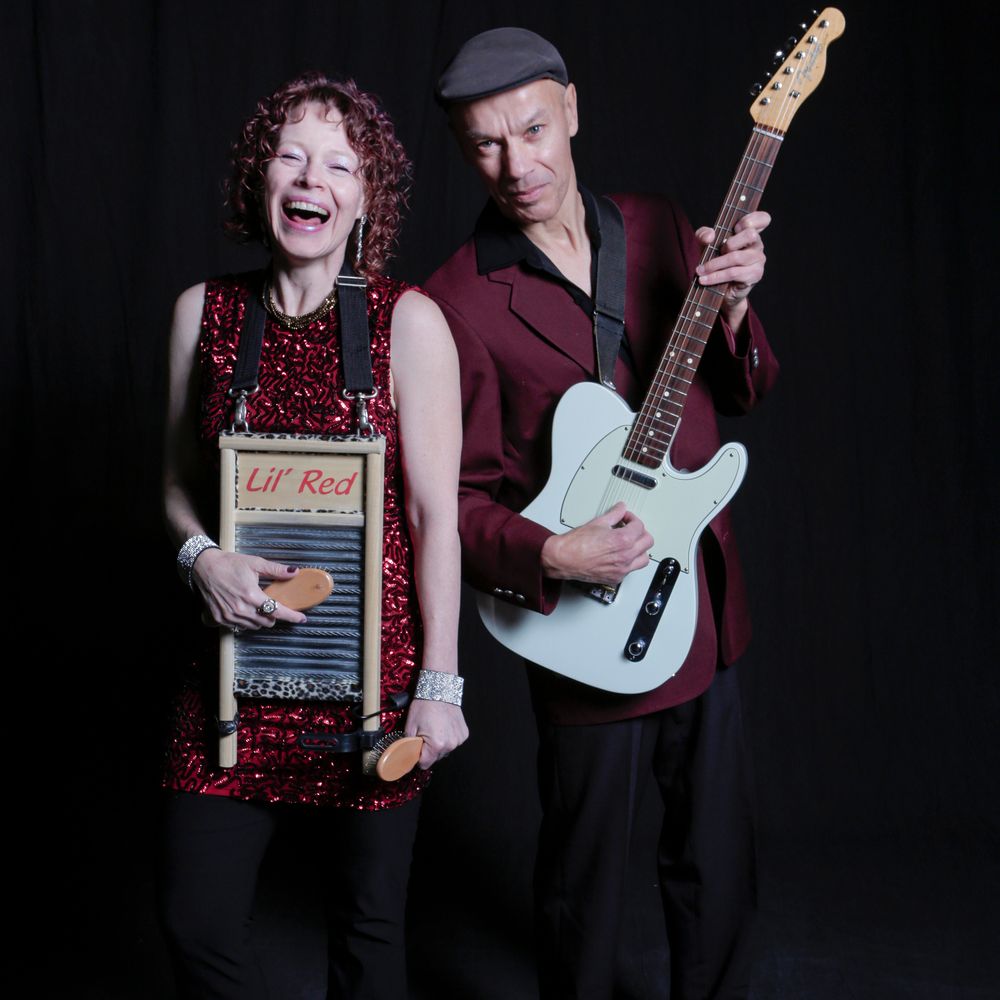 Jennifer "Lil' Red" Milligan & Pascal Fouquet
Contagious charm & serious blues
Westerville, Ohio native, Lil' Red, with bite, humor and a contagious smile writes, sings, scratches and shakes with all that makes her soul burn. Since 2010, she's been writing and touring internationally with her husband award winning blues guitarist Pascal Fouquet. As a duo, trio or combo, they're warm and inviting and their music is inspired and innovative, blues with a spirit full of hope and joy may inspire you to get up and boogie!
In 2017, Chicago Blues Hall of fame inductee Dave Specter produced their album "Soul Burnin"' and in 2018, he joined them at the prestigious BayCar Blues Festival. In 2019, they were finalists (Duo) in the International Blues Challenge and Semifinalists (Band) 2020 representing Cincy Blues backed by the sweet & groovy Columbus Combo of Dwight Cartier on bass and The Governor on drums. You can see them shuffling and groovin' several times a year at Buddy Guy's Legends in Chicago and Natalie's Music Venue in Columbus, Ohio as well as touring to festivals around the globe. 
They're also available to book with Dave Specter and/or award winning boogie pianist from Cincinnati, Ricky Nye. In 2020 & 2021, they'll be at the Swamp Blues Festival, Blues en Chenin, ASBL Open Music, JulyFest, Buckeye BBQ Festival, Buddy Guy's Legends Blues Fest, Lebanon Blues Festival ... add your festival to their schedule!
"

"I passed Lil' Red & The Rooster's set dancing and almost forgot to take photos." "
— Blues Magazine, BayCar Blues Festival 2018
Listen
0:00/3:48

0:00/4:31

0:00/3:32

0:00/3:39

0:00/4:53

0:00/4:58

0:00/2:22

0:00/5:54
Luv Bucket! 💗
If you like what we're doing, want to support our music projects and have some extra luv of the monetary variety click our Luv Bucket! Other ways you can really support us ... like us, follow us stream us, add us to your playlists, buy some merch ... we greatly appreciate it all!
Enter the amount you wish to donate
Who's in the Coop? Click the photos for more info.
Jennifer "Lil' Red Milligan
Vocals * Percussion * Rhythm Guitar
A multi-talented veteran of the stage, from Westerville, OH, USA, her 30+yr professional career has been diverse as an actor, dancer & singer/songwriter who has touched the hearts of hundreds of thousands internationally on stage, screen and recording. Her magnetic presence, exuberant energy and genuine smile bring a warm authentic charm to the blues scene. With her bed as a stage and hairbrush for microphone, she started singing at the age of 6 accompanied by her mother's 45s on her Mickey Mouse turntable. By the age of 11 her bed was replaced by a stage and by 22 she was touring the country as the lead in the National tour of Hair. The blue notes have called to her all her life and since 2010 she's been listening. She speaks and writes from her heart, direct and unafraid to sing of what makes her soul burn.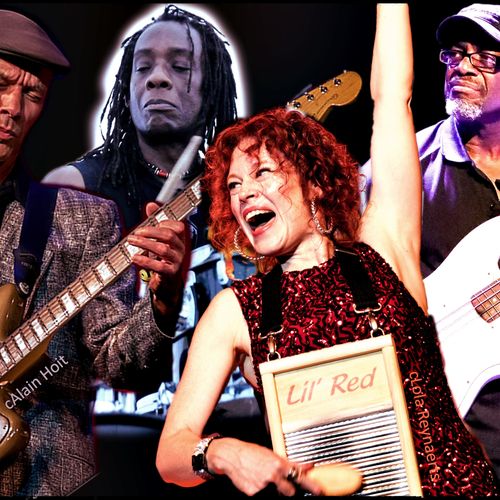 Columbus Combo
Dwight Cartier * Bass & David Tilove * Drums
Veterans of the Columbus music scene, Dwight & The Governor are a tight sweet and super groovy rhythm foundation for Lil' Red & The Rooster. With 40+yrs on their instruments and a whole lot of life in their souls they'll get you up and dancing. Plus, they're the sweetest guys you ever wanna work with.  Often joined by the lovable award winning boogie and blues pianist, Ricky Nye. If you're lucky, you can catch them with Dave Specter, Colin John, Long Tall Deb, Sean Carney and or Shaun Booker. The more the sweeter the gumbo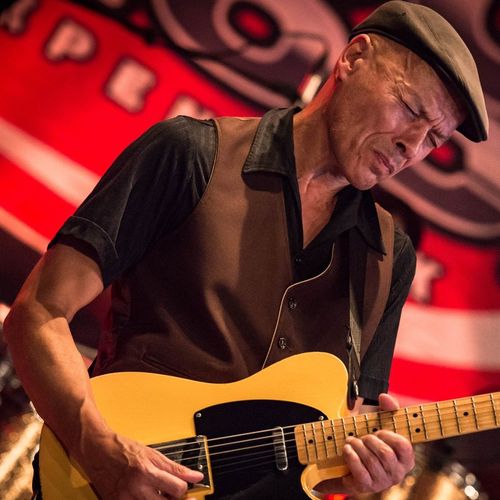 Pascal Fouquet
Guitars
This blues man got his start playing classical guitar at the age of 11 on a farm in Normandy, France. Five years later when BB King's "Blues Is King" reached his ears, his focus changed to Blues, from there he became one of the most admired Blues guitarists in France. This extraordinary soloist integrates the Blues of the 40's & 50's with contemporary blues to create his own unique sound and style. In his 40+ year career, he has won several awards for best soloist. He's shared the stage with many recognized Blues artists including Diunna Greenleaf, Sax Gordon, Sean Costello, Alex Schultz, Kid Ramos, Jimmy Morello, Mike Sanchez, Andy J. Forest, Michael "Hawkeye" Herman, Rob Rio, Kenny "Blues Boss" Wayne, Candye Kane, Fernando Jones, Ricky Nye, & Steve Clayton. He remains ever true to the Blues and his favorite guitar masters, T-Bone Walker, Tiny Grimes, & Charlie Christian.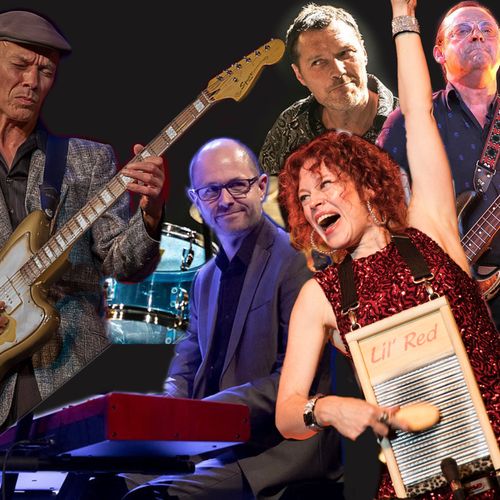 Paris Combo
Jean-Marc Despeignes * Bass & Simon "Shuffle" Boyer or Pascal Mucci * Drums
The Paris Combo's foundation are some of France's finest blues & swing musicians. Full of charm and a powerful swing, they're reputed in the French dance world as top notch and classy professionals! Often joined by,  Jean-Marc Labbe on baritone sax and can be seen on tour with Chicago Blues Hall of Famer Dave Specter. The more the groovier.
Latest Release new one coming in 2022!
Soul Burnin'
Click Pic to buy your copy!
Produced by and featuring Dave Specter, our new CD of 12 original songs, was recorded in Chicago in June 2017 by Grammy winner Blaise Barton at JoyRide Studio. A true French/American collaboration Jennifer "Lil' Red Milligan & Pascal "Rooster" Fouquet are joined by the dynamite French rhythm section Abdell B. Bop on upright bass and Denis Agenet on drums, with some spicy hot sauce of award winning boogie/ blues pianist Ricky Nye and Shaun Booker, Jeff Morrow and Caroline Rau on vocals.
"This is a high-quality work by every contributor and the production is crystal clear so that all of the nuances that are liberally sprinkled through every track can be heard and appreciated…and to get maximum benefit from this album, I suggest you do just that. It is somehow familiar and yet has clarity and originality that lifts it way above many similarly targeted releases…it's like slipping into something comfortable and relaxing with a bottle of quality red wine…be it French or New World!NINE -doodle paws out of TEN "
— Tom Dixon, Blues Doodles
Contact
Want to get in touch with us? 
Here's how ...
We're international and travel a lot, so the best way to reach us is by email or FaceBook Messenger. We can give you phone contacts and addresses upon request.  
For Booking: booking@lilredrecords.com
For Press, Promo & Tech questions and needs: info@lilredandtherooster.com
For Jennifer Milligan: jen@jennifermilligan.com
For Pascal Fouquet: fouquetpascal@gmail.com
For Shop & merchandise questions and issues: shop@lilredrecords.com
For all other inquires, comments, suggestions and howdy doos submit below!!
Leave us a message and let us know where your visiting from!