Jennifer "Lil' Red" Milligan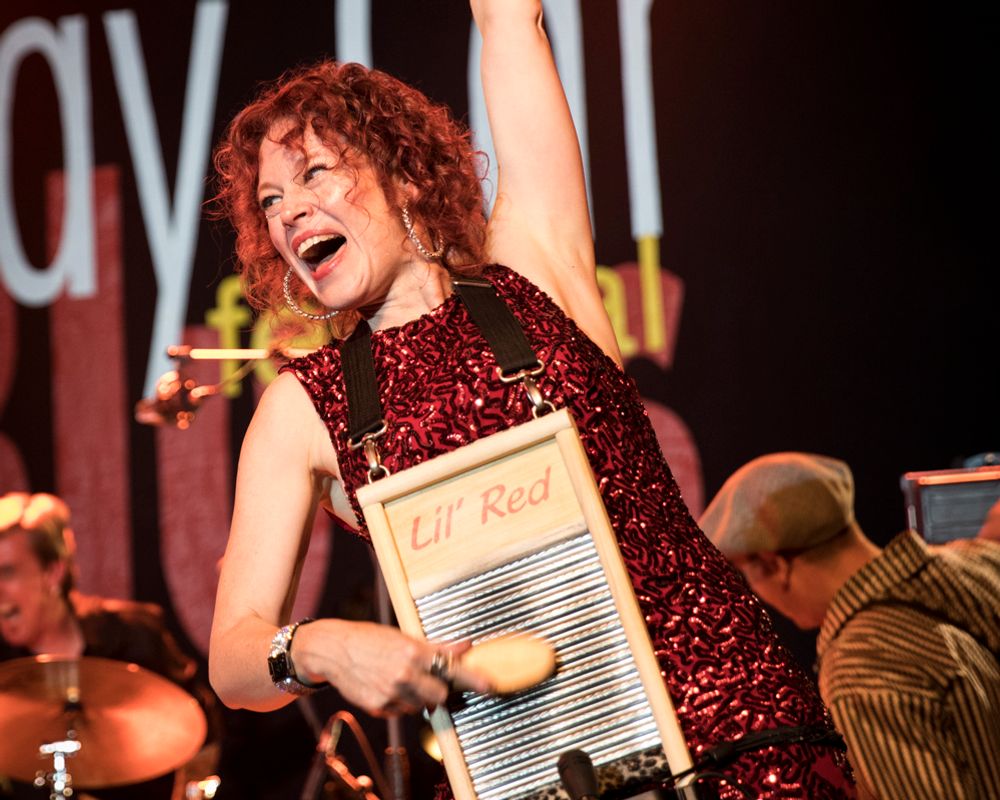 A multi-talented veteran of the stage, from Westerville, OH, USA, her 30+yr professional career has been diverse as an actor, dancer & singer/songwriter who has touched the hearts of hundreds of thousands internationally on stage, screen and recording. Her magnetic presence, exuberant energy and genuine smile bring a warm authentic charm to the blues scene. With her bed as a stage and hairbrush for microphone, she started singing at the age of 6 accompanied by her mother's 45s on her Mickey Mouse turntable. By the age of 11 her bed was replaced by a stage and by 22 she was touring the country as the lead in the National tour of Hair. The blue notes have called to her all her life and since 2010 she's been listening. She speaks and writes from her heart, direct and unafraid to sing of what makes her soul burn.
"

" … diva voice that walks voluptuously from Bessie Smith to Janis Joplin crossing without a hitch tonalities and eras always sounding the most sincere and accurate possible." "
— Fred Delforge, France Blues Association
IIn her professional career she has performed in and or choreographed more productions than years she has lived, sharing the stage with many recognized performing artists including Dennis DeYoung,, Carl Anderson, Ted Neeley, Carlos Benthien, Dave Specter, Andy J. Forest, Michelle Horsefield, LaChance, Gary Carney, Steve Clayton, Drew Davies, Ricky Nye, Matthew Skoller, Shane D. Wilson, Robert Smith, Thommy Price (Joan Jett), Eric 13, Shannon Conley (Lez Zeppelin), Nico Wayne Toussiant, Shaun Booker, Long Tall Deb, Colin John, Sean Carney, Micah Kesselring and Eileen Howard.
 DISCOGRAPHY  
2017 Lil' Red & The Rooster – "Soul Burnin' 
2016 Lil' Red & The Rooster - "L'Odeon JRC Live" 
2015 Shane D. Wilson "You Asked For It" – washboard & backups  
2014 Alain Messier "Raisin' Blues" – Featured vocalist  
2014 New Line Up "Helpin' Hand"– Featured vocalist  
2013 Lil' Red & The Roosters – "Out Of The Coop!"  
2012 Jenny Lee & The Hoodoomen – "Pretty Gritty City" 
 AWARDS AND UNIONS
2019 Winner Band Cincy Blues Challenge
2019 International Blues Challenge Finalist Solo/Duo
2018 Winner Solo/Duo Cincy Blues Society Challenge
2018 2nd Place Blues, Jazz & Folk Music Challenge
2017 Second Place Blues, Jazz & Folk Music Challenge
 2015 France Blues Finalist 
 2015 International Blues Challenge Participant
2014 Winner Solo/Duo Columbus Blues Challenge 
2000 Best Choreography Columbus Dispatch 
1998 Best Supporting Actress Columbus Dispatch 
1992 Member of Actors Equity Association 
1986 Ohio Arts Council Award 
1986 National Advancement For The Arts Award 
1985 Member of American Federation of Radio and TV Artists 
Bands 
Lil' Red & The Rooster 
Sugar Blues & Daddy-O 
Jenny Lee & The Hoodoomen 
00 Feedback/ Cheap Thrill 
The Sex Slaves
Training Lineage & Acting/ Singing/ Dancing resume
University of Cincinnati College Conservatory of Music - BFA - Musical Theatre
Naropa University - MFA - Contemporary Performance
VOICE: 
BLUES, JAZZ, SOUL, MUSICAL THEATRE, CLASSICAL TECHNIQUE AND INTERPRETATION: Coaching:    Teeny Tucker, Shaun Booker, Jeffrey Saver, Oscar Kosarin, Michael Graves Technique:  Michelle Horsefield, Nancy Evers, David Adams, Steven Hilderbrand Choral: Joyce Stonebraker, Gary Everett 
ROY HART / ALFRED WOLFSOHN'S EXTENDED VOICE:  Mentor:     Jonathan Hart Makwaia Teachers: Ethie Friend, Carol Mendelsohn, Saule Ryan, Kaya Anderson, David Goldsworthy, Liza Mayer, Derek Rossignol, Ian Magilton, Linda Wise, Ralf Peters, Agnes Dumouchel, Edda Heeg, Marianne Le Tron, Ivan Midderigh, Susanne Weins, Marie-Paule Marthe, Penny Kritzer 
DANCE: 
LUIGI JAZZ: Luigi  (My NYC Papa) Teachers:  Francis J. Roach, Joey Ducette, Sean Powers,  Lester Horton: James Truitte  Post-Modern:   Barbara Dilley, Wendell Beavers  Viewpoints:      Wendell Beavers, Barney O'Hanlon Contact Improv:  Nita Little, Andrew Howard, Chris Aiken, Alicia Grayson, Gretchen Spiro, Teri Carter, Javier Cura, Aaron Jessup, Carolyn Staurt, Scott Wells, Shel Wagner Rasch,  Stefan Fabry, Angie Hauser, Scott Rodwin,  Johanna Walker, Krista DeNio, Steve Homsher  Tap: Phil Black, Joan Walton, Pam Schalarith Afro-Modern; Onye Ozuzu  Latin Jazz: Phil Black Tango:                   Javier Cura  Musical Theatre: Preston Misner, Diane Lala, Joan Walton 
 
ACTING & PHYSICAL THEATRE: 
Felix Ivanov  -Checkov, Stanislovisky, Vakhtangov, Decroux, Combat, Puppetry, Mask Stephen Wangh -      Grotowski Katzura Kan - Butoh  Erica Berg  -Grotowski Barney O'Hanlon -   Suzuki, Viewpoints Diane Kvapil -           Misner, Morris  Aubrey Berg - Uta Hagen, Cohan, Dialects William Goldsmith - Children's Theatre  & physical comedy Phillip S Wilson - Stage combat, technical theatre 
Steven Anderson - Scene work  Michael Graves - Shakespeare,  on-camera Michael MIlligan  -Shakespeare 
 PERFORMANCE CREATION: 
 Barbara Dilley - The Red Square, dance improv  Moises Kaufman - Moment Work Leigh Fondakowski -Moment Work Daniel Banks - Performance Studies, Ensemble building, and creation Dan Safer -Choreographic Theatre Meredith Monk             - Voice & Movement composition Ann Waldeman  - Performative Poetry 
 SOMATIC & ENERGY TRAINING: 
Iana Lahi  - Spiritgateways:  movement healing, meditation  Bonnie Cohan  -       Body, Mind Centering Erika Berland -       Body, Mind Centering  Wendell Beavers - Developmental Movement Carolyn Eberle -Barbara Brennan 
MARTIAL ARTS: 
Sabumnim Yong Ji In- Hap Ki Do              Felix Ivanov  -Tai Chi, Kung Fu 
Sensei Andy  -Judo
TV & FILM
Guiding Light                                         Madeleine                                 CBS 

Below The Belt                                      Nurse                                         Poor  Box Productions 
THEATRICAL TOURS 
Hair                                                           Sheila                 20th Aniv Tour Pink Lace Productions 

JC Superstar (National Tour)      Ensemble      Niko Assoc (Ted Neely,Carl Anderson) 

JC Superstar (European Tour)    Ensemble           European Tour Wolfgang Bosch 
REGIONAL THEATRE 
Suburbia                                           Sooze                                  Contemporary American Theatre Company 

Uncle Vanya                                     Sonya                                  Undercroft Players 

Art of Being Oscar                         Lily / Constance               Georgia Shreve 

Heroine                                             Sam                                      The Flea Theatre 

Rocky Horror Show                      Janet                                    Stage 5 Reparatory 

The Good Doctor                            Actress #2                         Stage 5 Reparatory 

Arms and The Man                        Riana                                   Stage 5 Repertory 

Oh, Jackie!                                        Jackie Kennedy      Act Out Productions * Mel Helizter 

Blue Plate Special                          Ramona                              Metro Music Theatre 

Man w/ a Load of Mischief         The Lady                             Metro Music Theatre 

Queen of Satin                                 Annie                                   Red Herring Theatre 

JC Superstar                                   Tormentor                          Walnut Street Theatre 

South Pacific                                    Bucket Head                     Candlewood 

Sweet Charity                                  Ensemble                           Candlewood 

JC Superstar                                   Tormentor                          American Stage Festival 

Oliver                                                 Nancy                                  Columbus Children's Theatre             

Sleeping Beauty                              Beauty                                Columbus Children's Theatre 

Edgar Allen Poe                              Ensemble                           Columbus Children's Theatre 

Rapunzel                                           Witch                                  Columbus Children's Theatre 

Aesop's Fables                                Ensemble                           Columbus Children's Theatre 

Child Writing Project                     Ensemble                           Columbus Children's Theatre 

The Dining Room                            Ensemble                            Showboat Majestic 

Oklahoma                                         Ado Annie                           Showboat Majestic 

Cole                                                    Ensemble                           Showboat Majestic 

Cotton Patch Gospel                      Ensemble                           Showboat Majestic 

George M                                          Agnes                                  Showboat Majestic 

Dames at Sea                                   Joan                                    Showboat Majestic 

The Boyfriend                                  Dulcie                                  Ensemble Theatre of Columbus
ORIGINAL THEATRICAL CREATIONS  
Women Who Love Passionately      Performer/Writer   Boulder International Fringe  

In The Belly Of The Whale                 Director                             Jonathan Bender  

Acrobat Of Passion                             Performer/Creator       Naropa University  

Nightingale                                            Performer                             Felix Ivanov 

Dilly Dally Dali                                       Performer/Creator          In Situ 
UNIVERSITY THEATRE 
Chicago                                            Roxy                                Cincinnati Conservatory of Music 

110 In The Shade                           Snookie                           Cincinnati Conservatory of Music 

A Chorus Line                                Judy                                 Cincinnati Conservatory of Music 

The Baker's Wife                          Simone                         Cincinnati Conservatory of Music 

Hair                                                      Jeanie                         Cincinnati Conservatory of Music 

Cowboy Mouth                             Cavale                        Cincinnati Conservatory of Music      

Les Liaisons Dangereuses     Marquise de Merteuil      Naropa University 
COMMUNITY THEATRE 
A Chorus Line                                           Morales                 Worthington Community Theater 

Pajama Game                                          Ensemble             Columbus Jewish Center 

Best Little Whorehouse in Texas   Ensemble           Worthington Community Theater 

Follies                                                            Young Sally          Players Theatre of Columbus 

The Boyfriend                                            Dulcie                      Players Theatre of Columbus 

Carnival                                                        Ensemble              Players Theatre of Columbus 

Cinderella                                                    Cinderella             Columbus Jewish Center 

Dragon Tale                                                 Ensemble              Players Theatre of Columbus 
HIGH SCHOOL THEATRE 
Barnum                                                      Joyce Heth              Fort Hayes Performing Arts HS 

Mr Roberts                                                Ensemble                  Fort Hayes Performing Arts HS    

Oklahoma                                                 Chorus                                        Westerville North HS 

Pure As The Driven Snow                 Imogene                                     Westerville North HS 

The Crucible                                             Mary Warren                            Westerville North HS